Delivering phenotypically relevant disease models
Expand your insight into cellular physiology and gene function with knock-in cell lines
Overview
When you're ready to study disease causing mutations in a clinical context or protein function in a native cell biology, DefiniGEN can advance your studies through efficient creation of an appropriate knock-in cell line.
Combining years of experience handling iPSCs with an understanding of how iPS cells respond to CRISPR-based genome editing, we deliver high success rates and a collaborative customer experience.
Knock-in workflow
Because every cell line responds differently to CRISPR gene-editing, we start each project with an evaluation of your iPS cell line's response to editing. alternatively, you can accelerate turnaround times and maximize success by starting with one of our in-house cell lines that do not require as extensive an evaluation.
With our years of experience generating mature, primary-like cells from iPSCs and our proficiency at using CRISPR for targeted genome editing, we can build the cells that best reflect the biology you wish to model.
gRNA design, screening, and construction
Transfection and optimization
Screening for single positive clones
Cell expansion and validation
Technical Support From Start to Finish
We pride ourselves on working with each client as a collaborative research partner!
What you will receive:
Bi-weekly calls and interim emails to update you on the project progress.

Highly characterized/validated CRISPR-edited human cell lines (clonal or pool).

Final report containing details of the sgRNA design and the results of all QC and validation assays.

Isogenic (parental) controls to determine any phenotypic effects driven by factors intrinsic to the gene knock-in.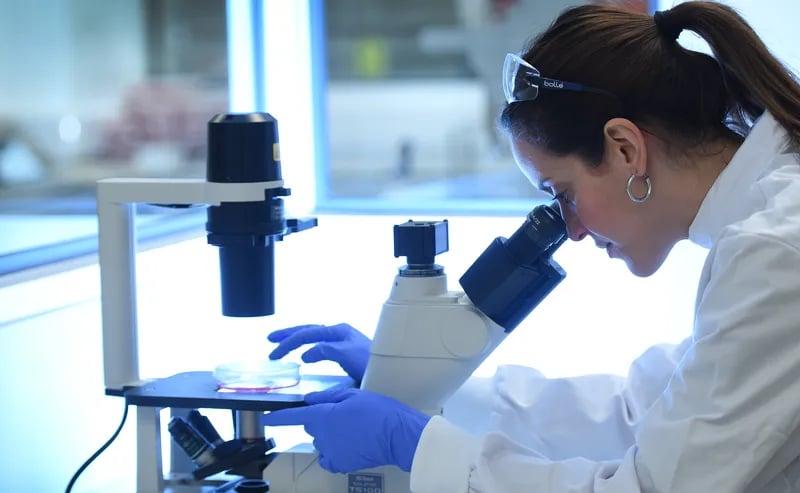 How long does the entire gene-editing process take?
The entire gene editing process takes between 8-10 weeks depending on the complexity of the project. We will advise you of the lead time when we generate your quote.
How do you confirm that the cells have the correct modification?
We use Sanger sequencing to verify that the correct modifications have been made. Upon request, we can perform whole exome sequencing to scan for off-target edits.
Which gene editing method do you use?
We most commonly use a CRISPR RNP-based gene editing approach. To guarantee rapid and highly efficient gene inactivation (gene knockout), purified CAS9 protein is delivered into cells along with sgRNA (ribonucleoprotein (RNP) complex) via electroporation or transfection.
For knock-in experiments where the goal is either to introduce a point mutation or to insert a reporter/tag, we co-deliver donor repair template (ssODN or dsDNA, respectively) and RNP into the cells to facilitate the double-strand break (DSB)-mediated homology directed repair (HDR). Although we favour the Cas9 RNP delivery approach, we also offer plasmid or viral-based delivery of CRISPR components into the cells.