DefiniGEN Achieves ISO 9001: (2015) Certification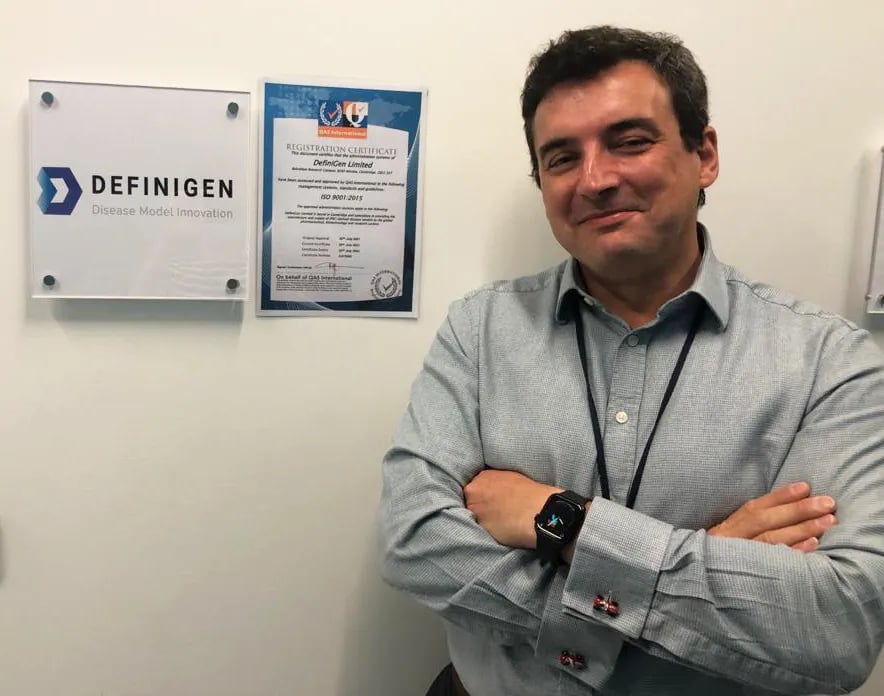 Cambridge July 29th, 2021: DefiniGEN, a provider of iPSC-derived products and disease modelling services, today announces that the company has earned ISO 9001: 2015 certification at its Cambridge UK facility. ISO certification confirms excellence in quality management standards and validates the company's dedication to upholding international standards for its customers.
Dr Chris Kirton, Chief Operating Officer, commented: "The granting of an internationally respected quality standard such as ISO, is clear recognition of the tremendous amount of work put in by every member of the team over the course of this year as we moved towards accreditation."
ISO 9001: 2015 is a globally renowned quality management system (QMS) developed by the International Organisation for Standardisation (ISO). The standard is centered around multiple quality management principles including customer centricity, risk-based thinking, and accountability across all organisational processes.
The OptiDIFF platform is a streamlined process to differentiate human stem cells into various cell types and the scientists at our Cambridge based facility have developed this into a scalable commercial process.
Dr Chris Kirton added: "The differentiation of iPSC to hepatocytes is one of the most technically challenging processes within the stem cell field. DefiniGEN can not only perform this at scale but also under a recognised quality system which really does mark out the company as a leader in this area".
ENDS
About DefiniGEN Ltd
DefiniGEN has world-leading expertise in the area of stem cell-derived human cell production and metabolic disease modelling. The company has developed a best-in-class proprietary stem cell differentiation technology platform to generate mature, phenotypically relevant human hepatocytes, pancreatic cells and intestinal organoids. The platform can generate a range of unique metabolic disease models to accelerate preclinical drug development via the sourcing of patient samples and reprogramming to stem cells or alternatively using CRISPR gene-editing on stem cell lines and differentiating them on the technology platform. The models can deliver unparalleled insights into the biology of metabolic disease in a range of 2D and 3D formats which can integrate effectively into high-throughput screening programmes and investigative studies. The application of these cell models in drug discovery provides pharmaceutical companies with more predictive in vitro cell tools to optimize the development of safe and efficacious therapies for life-threatening metabolic diseases.
Advance your scientific discoveries with our disease model development and screening services.