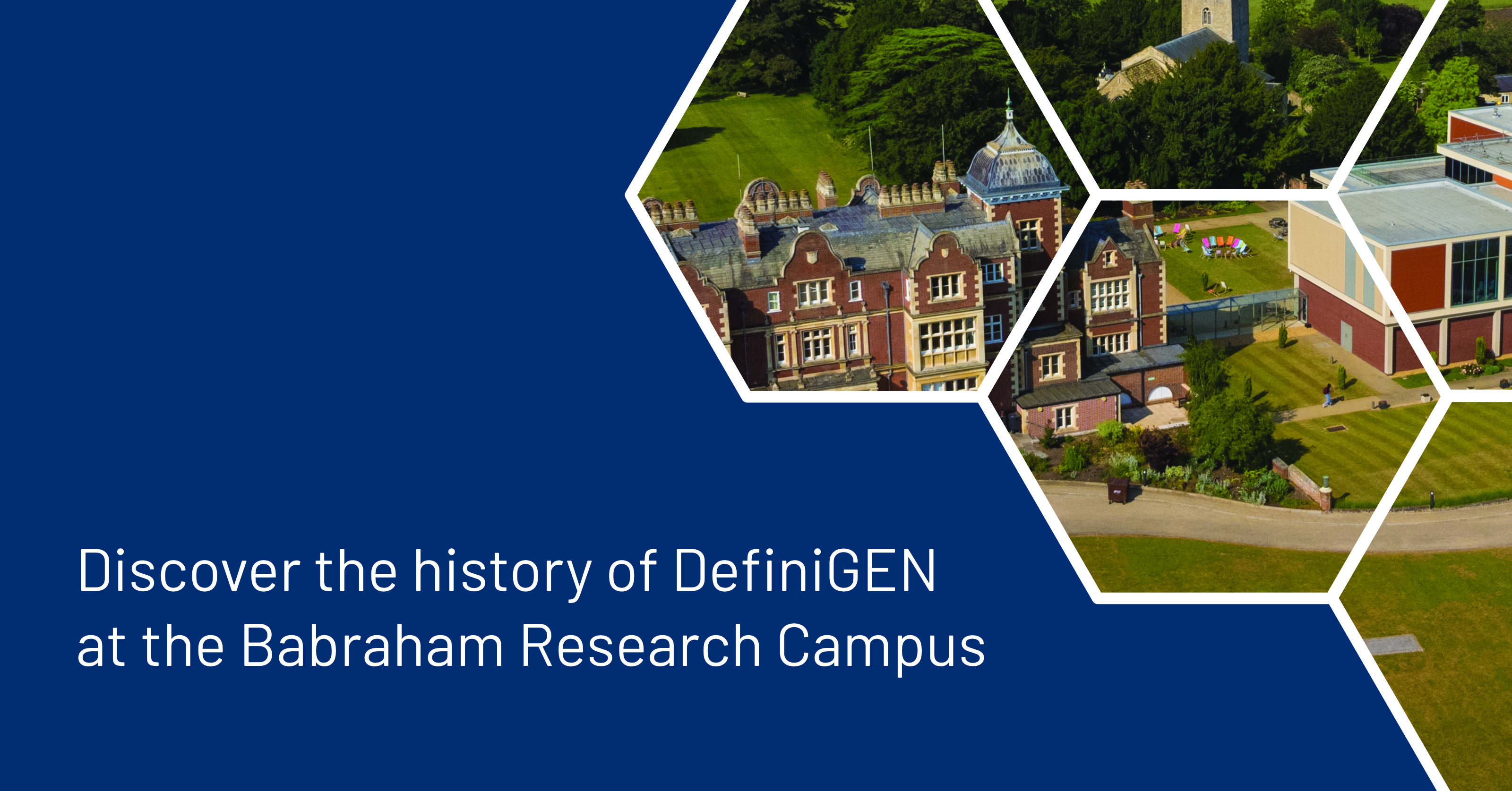 The Babraham Research Campus is located on the outskirts of Cambridge, England on the site of the historic Babraham Hall Estate. It was initially founded as a research campus for animal physiology in 1948. The campus evolved its focus to become a biotechnology and biological sciences research institution in 1993.
Being in ideal geographical location at the core of the Cambridge cluster, the Babraham institute and campus has always shared close ties with Cambridge university, which is where DefiniGEN's story began. The art of deriving induced Pluripotent Stem Cells (iPSCs) and then differentiating them into Hepatocyte Like Cells (HLCs) was achieved by Ludovic Vallier and his team at Cambridge University in 2010, since forming in 2012 and moving onto the Babraham campus, DefiniGEN have focused on streamlining their OptiDIFF process. OptiDIFF is our proprietary platform technology that allows us to create disease models and bioassays that support the development of next-generation therapies for our clients.
The DefiniGEN labs and offices are situated in the Moneta Building on the campus. The campus serves as a leading centre for bioscience bringing together world-class research and business innovation and is considered to be one of the UK's leading campus' to support early-stage bioscience enterprise.
In July, 2023 the Babraham Research Campus hosted its first inaugural BioBabraham Symposium, a meeting designed to encourage collaborations across the campus community. DefiniGEN were proud to take part in the symposium, at the meeting our Chief Executive Officer, Dr Chris Kirton outlined DefiniGEN's OptiDIFF process, "We take stem cells, we turn them into liver cells, and we then use them to create bioassays for drug screening - in monogenic disorders of the liver, small intestine and the pancreas".
Chris Kirton furthered described the process, "We have wild-type cells and then those cell lines with the diseased phenotype in and then we add in the client's drug and look for restoration of function of the diseased ones back to something close to the Wild-type". DefiniGEN's purpose is to improve and save lives by accelerating the development of treatments for life-threatening conditions. We do this by providing highly predictive cell-based models of liver and metabolic related disease models to the drug development industry. Our models reduce the chance of clinical failure and decrease the number of animals used in safety assessment. We're striving to create a better future for all by helping to bring life-saving therapies to patients faster and more effectively than ever before.
DefiniGEN partner with our clients allowing us to integrate seamlessly into their development pipeline, providing a de-risked and unique approach to the provision of bioassay services. We understand each of our clients has unique drug and disease modeling requirements and we approach each project with a customized method that suits their needs.